"In Loving Memory Of"
U-CD JoKay's Czardona Weiss Lobo, CD, CGC, GSDCA 13 Club aka Lobo
The Dog with the Golden Heart
    June 07, 1991  
 August 06, 2004  
Sire: WGSDCA / WGSDCII Ch. Regalwise O'Leavy Czar, CD, CGC, WAM, OFA
Dam: U-CD JoKay's Sedona, CD, CGC, OFA
http://whitegsds.com/pedigrees/showDog.php?name=jokays_czardona_weiss_lobo

 Heart and Soul of Lobo
Our Lobo was more than just a dog. We truly believe he was a gentle-intelligent-handsome-zealous man born into a dog's soul. Joe and I were at hand when he was born. Lobo was the first puppy from his litter to enter this world. He was huge. He was snow white, and had the head of large male wolf cub. As I held this beautiful precious life in my hands, I turned around to Joe and said; "Here's your new puppy-dog!" To this day I cannot really say why I made that comment to Joe as I held this newborn in my hands. Maybe because looking down at him there could not have been a more beautiful puppy. The look on Joe's face was priceless. He always wanted a white male German Shepherd Dog of his own to train and love. I guess it was meant-to-be, because out of four more males born in that litter, he was the puppy of Joe's choice. As the puppies grew from week to week, Joe never once doubted that decision. Joe and Lobo's years together were completely breathtaking in every manner!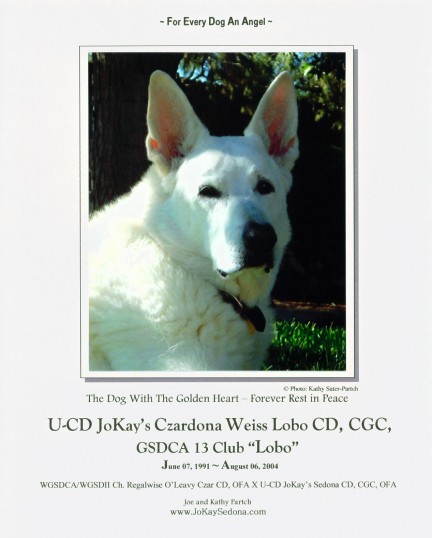 Lobo's Palace
In memory of Lobo
I love my home. I love my fenced backyard. It is so peaceful.
I'm safe here. No other can enter without authority. It is My Palace.
I am King of My Palace. I reside here when I'm not out and about with my family.
Under my large Mulberry tree, I rest in the soft grass and smell its vitality.
Smells tell me much, greatly identifying my existence.
This brings me to whom I am – The German Shepherd Dog of countless design.
I am a genius in the world of canines; I know my forte in this life.
People say that I am extremely beautiful, like no other.
I am loved by many. I must be out of the ordinary.
I know I have had a good long life, filled with memorable pleasures.
Now it's time to rest in My Palace. My spirit will reside here forever…
© Kathy Sater Partch
"I once had a German Shepherd Dog that had immeasurable humor. At the most serious times he could make me laugh. Where could I ever find such consolation for one's heart and soul?" …In memory of our precious shepherd, "Lobo" –Kathy Sater Partch
Gold is used to describe such a heart because it alludes to something that is rare and of great value.
This was Lobo in his time!
Lobo's Pedigree
Bred by "JoKay's", Joe and Kathy Partch
WGSDCI Ch. Windstrom's Saruman Von Finn CD, TDI, OFA (wh)
U-CDX, WGSDCI Ch. V. Regalwise Klone Ranger CDX, Can. CD, TD, TDI, HC, TT, CGC, OFA (wh)
U-CDX, WGSDCI Ch. V. Regalwise Ideal Reka CDX, Can. CD, TD, HC, CGC, OFA (wh)
Sire: WGSDCII/WGSDCA Ch. Regalwise O'Leavy Czar, CD, WAM, OFA (wh)
Windstrom's Lone Wolf, OFA (wh)
U-CDX, WGSDCII Ch. Hytime Zion Rose Regalwise, CDX, Can. CD, TD, HC, TDI, TT, CGC, BH, FH, OFA (wh)
Hytime's Vixen, OFA (wh)
Clayfield Chad Of Cedar Haven, OFA (blk/tn)
Sherwood Sam, Sheriff's K-9 Ofc., Metz (blk/tn)
April Von Smuggler (blk/tn)
Dam: U-CD JoKay's Sedona CD, CGC, OFA (wh)
Lupine Von Murray (wh)
June Von Murray (wh)
Joanna Of Jupiter (blk/tn)