OFA GS-80129E24M-VPI
The Prevailing One
"I am the human passion of magnificent design.
My exquisiteness has been molded through many years.
I come in a variety of coats entirely stunning to the eye!
I'm not only breathtaking to observe,
But have the working ability of much greatness.
I have the psyche of a genius.
I have the heart and soul of a guardian angel.
I would give my life for you.
I have countless stories yet to be told.
Always be true to who I am.
I am the Prevailing German Shepherd Dog."
© Kathy Sater Partch 2010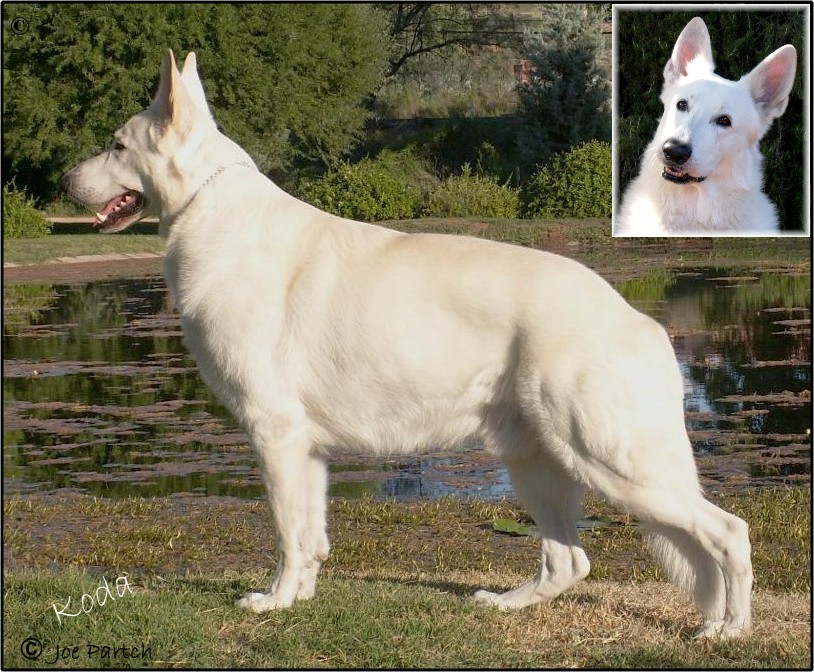 Koda's Pedigree:
http://whitegsds.com/pedigrees/showDog.php?name=eclipses_jokay_miakoda_moon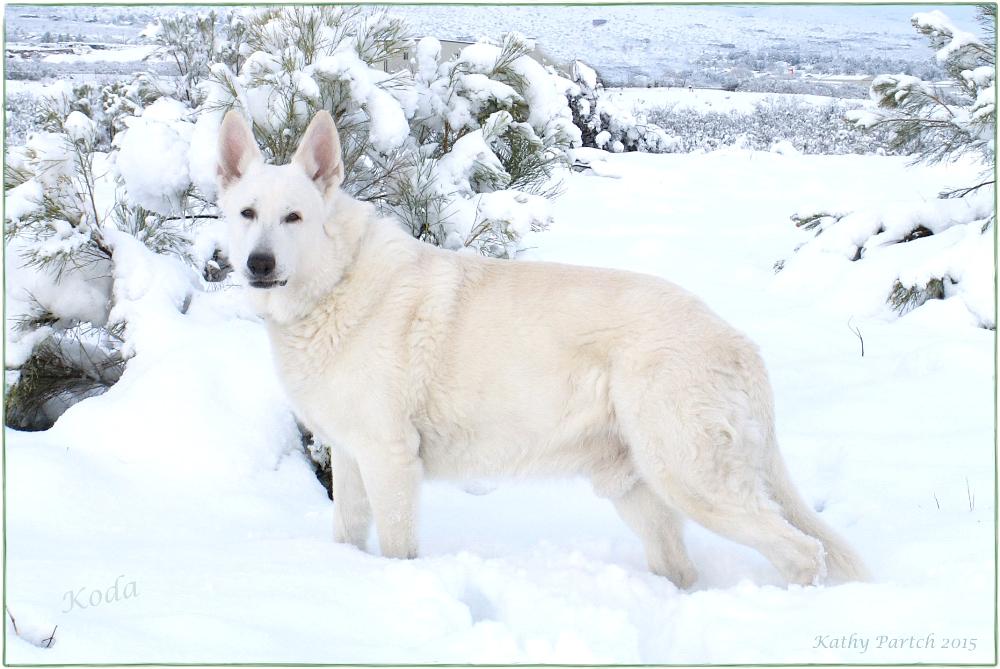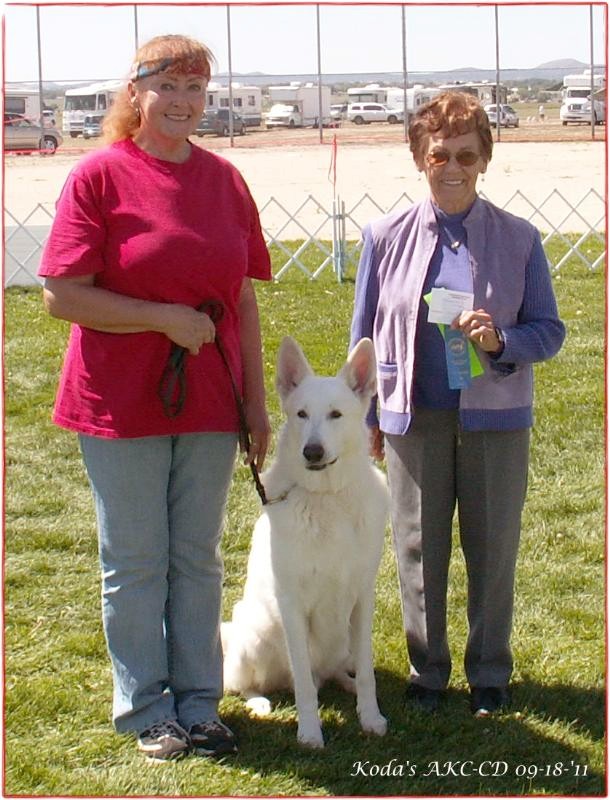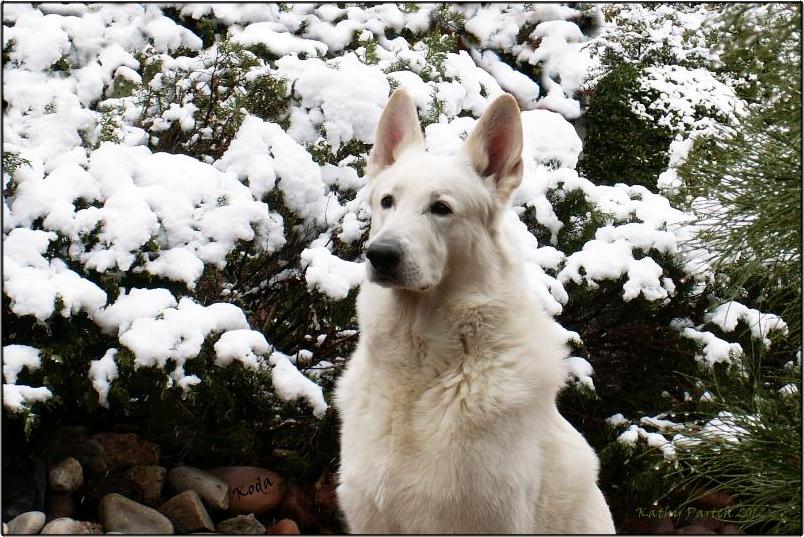 Beauty attracts the eye but personality captures the heart!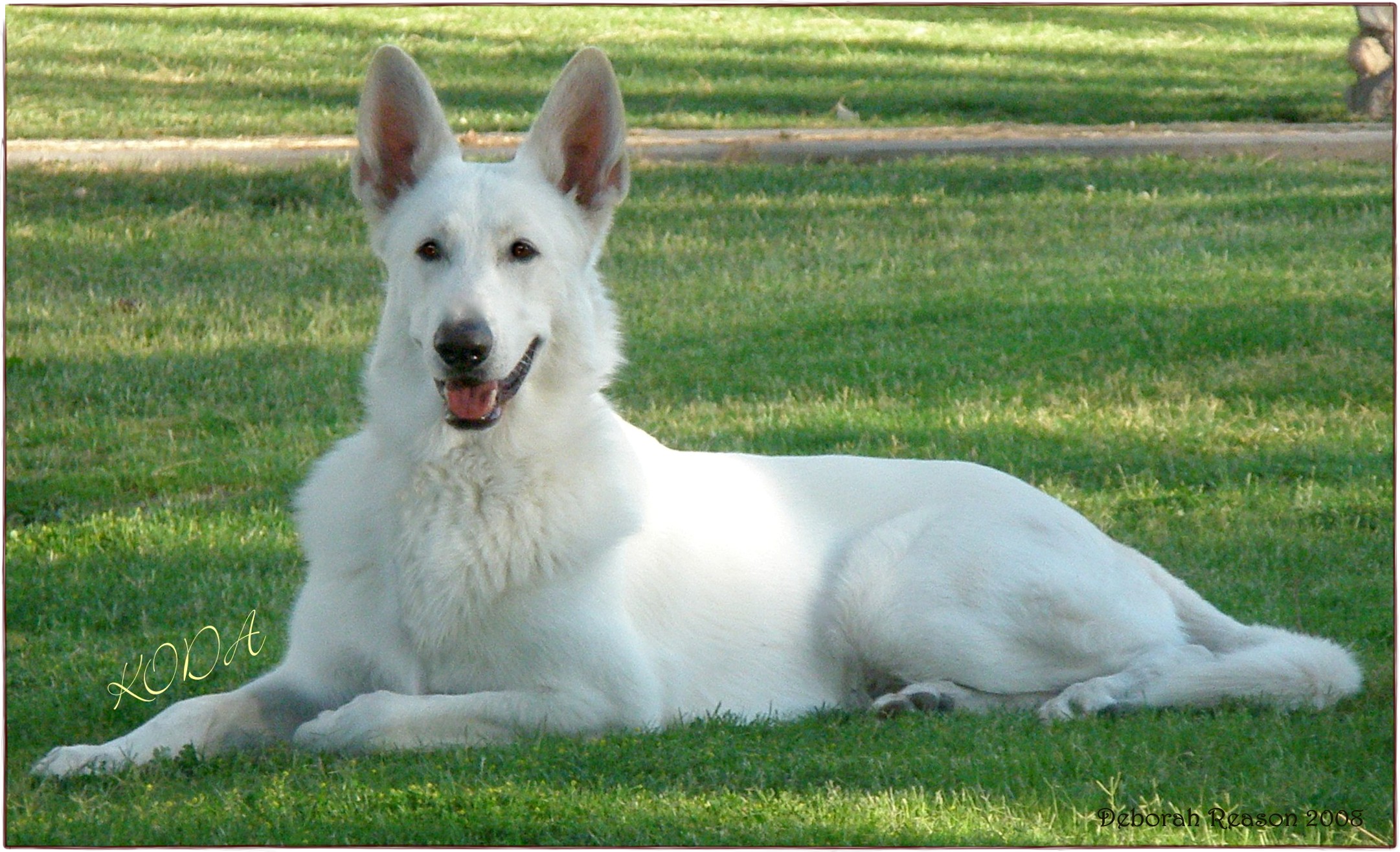 One reason a dog can be such a comfort when you're feeling blue is that he doesn't try to find out why.
— Author Unknown 
Day by Day
Day by day my shepherd walked with me;
Day by day I knew the love we had shared.
 © Kathy Partch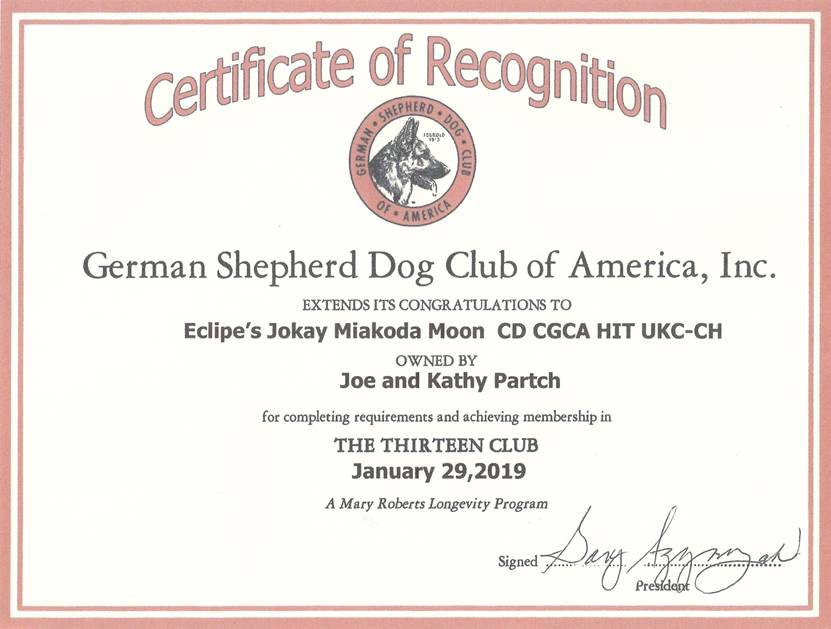 January 29, 2007 — February 25, 2019
Thunderous Silence
How do I say that final goodbye to something I so passionately love?
This becomes more difficult than the times before.
I cannot endure one more moment of silence.
Please, don't let me go through this again.
Are all the treasures from this love really worth it in the end?
The tempo progressing is all too swift.
Can I slow it down?
Thoughts rush by from all the things we've done and still wanted to do.
So many great moments scatter my thoughts while
Contemplating what was happening before me.
Please, is there some way to go back in time?
No, no this is real.
This is now.
The grief is excruciating.
Please, make it go away.
I hate the reality of this moment.
I'll never go through this again.
I can't.
I reach down to touch one last time.
It doesn't feel familiar.
Once vibrant: this beautiful soul lay before me –
My friend, my life, my love, my dog;
I tried to memorize this passion as I said goodbye –
The classic head, still beautiful dark eyes now faded,
But still expressing everything I tried to grasp.
The body not quite the same as I remember.
Why does time change so much?
Goodbye my precious love,
I said softly with trembling voice.
I shall never forget you.
We'll meet again at the Bridge.
I took a deep breath,
The moment fell into a thunderous silence.
© Kathy Sater Partch 2019
"For Every Dog an Angel"
I was a German shepherd dog of amazing beauty. None tired of looking at me as long as I displayed myself in my Whiteness Splendor! "Koda" — © Kathy Sater Partch
01.29.2007 — 02.25.2019
When your heart is broken, it can feel like the end of the world. No amount of pain has ever felt so agonizing or concentrated. It's like a giant hole was pummeled into your chest, with no hope of repair. … Our bodies literally repel being dumped because there's no greater pain than heartbreak!
Just This Side of Heaven
I heard my mom's tender voice, "Good bye. I love you!"
I wasn't sure what was happening.
Then, it became very quiet. I felt myself floating.
I sensed no discomfort of any kind.
I was crossing over to a beautiful place called 'Rainbow Bridge.'
The astounding hues were like nothing I recognized.
I found myself on this unfamiliar path.
I became unsure of myself.
Next, I felt something unusual on my shoulders;
I turned to look.
There were large white feathers like birds I've known.
What a strange sensation.
I could move them.
Following, a most powerful, yet calming voice revealed itself.
It was coming from the vastly bright light behind me.
The voice spoke, "Koda, over here, you're home!"
The intense light guided me directly into its core.
Family and friends that had passed welcomed me.
I felt their immense love,
But I missed my immediate family.
The calming voice reassured me, "You will see them again!"
'At last I lay down to rest…' I will wait!
Believing in how it was, as all our animals crossed over to that side of Heaven
© Kathy Sater Partch